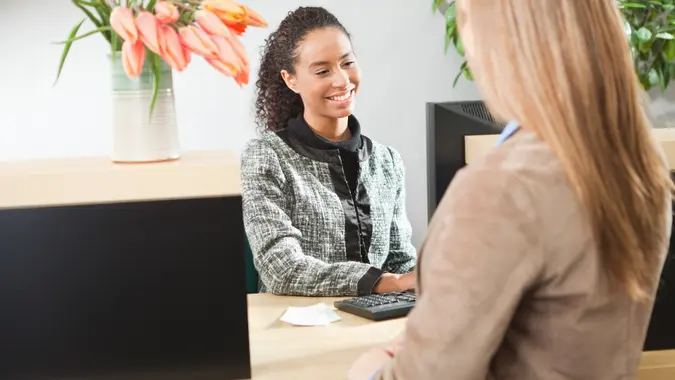 Yin Yang/Getty Images
How often do you visit the bank? In GOBankingRates' Best Banks 2023 survey, 38% of 1,000 respondents said their last visit to the bank was within the last month.
See the list: GOBankingRates' Best Banks of 2023
See: GOBankingRates' Best Savings Accounts of 2023
Other: GOBankingRates' Best Checking Accounts of 2023
While most customers can meet their financial needs through online banking or mobile apps, there are many reasons why visiting a bank in person is beneficial.
cashing or depositing checks
When asked why they go to the bank, 40% of respondents said they prefer to deposit cash or checks in person. About 46% of people between the ages of 18 and her 24s have this preference, and 43% of those over 65 prefer to do checkwork in person.
About 38% of respondents preferred to deposit large amounts of cash in person. Millennials (ages 35-44) were most likely to visit stores in person for large deposits.
Take our survey: How much signup bonus do you need to change banks?
coin exchange
A common reason to visit a bank is to exchange coins. Banks that offer coin counting services can accept coins for cash or deposit change into your account.
About 20% of those surveyed said coin exchanges are the reason they visit banks.
Sign up for a new account or product
When signing up for a new account, 17% of respondents said they would sign up directly. Millennials were the most likely to use the service directly, while people aged 55 to her 64 were the least likely to go to a bank to sign up for a new account or product.
Chris Yancey, Head of Integrated Sales and Advice at TD Bank, said that while digital banking has grown exponentially in recent years, many customers still want face-to-face experiences and advice. This is especially true when more complex decisions are involved.
"Customers want to feel financially supported when applying for a loan, planning for an important life event, saving for their child's college tuition, or building an emergency fund." says Yancey.
you are not a fan of mobile banking
Mobile banking is an option available to most customers, but not everyone likes it. About 6% of survey respondents say they don't like their mobile banking app or experience. People aged 25-34 had the highest percentage (8%) of those who did not like using apps for their banking needs.
Customers unfamiliar with mobile banking may prefer to go to the bank in person. According to GOBankingRates, 17% of respondents had visited a bank within the past two months.
"I think we have all learned over the last few years that there is no substitute for face-to-face interaction, especially when something as precious as financial well-being is involved," Yancy said. ' said. "Building relationships with banks and bankers is of great value. It strengthens your general financial knowledge and gives you greater comfort when dealing with difficult conversations about money."
Learn more about GOBankingRates
Source link