To celebrate the start of Black History Month, "Good Morning America" ​​invited two small business owners to celebrate their rich history and recipes and compete to see who has the best soul food. rice field.
Chefs Lavinia McCoy and Betty Joyce Chester-Tamayo squared off for a soul food showdown with two recipes, one batch of their famous macaroni and cheese and another of their own.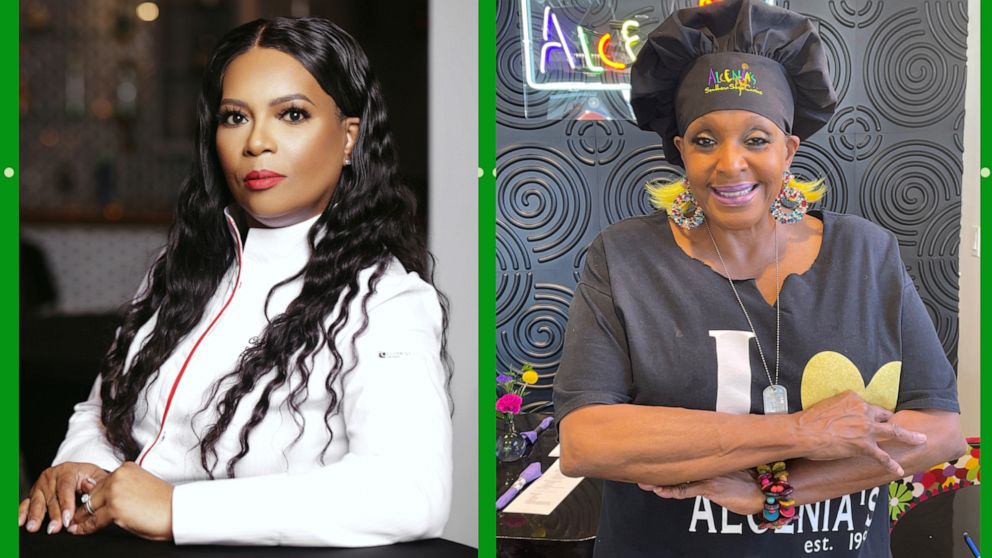 McCoy represents her business, Gourmet Soul and Catering, based in St. Louis, Missouri, while Chester Tamayo brings flavors from Arsenia, a soul food spot in Memphis, Tennessee.
Check out the recipe below.
macaroni & cheese
Chester Tamayo's classic macaroni cheese recipe uses macaroni shells and is finished in the oven for a beautifully cheesy, bubbly baked dish.
material
4 cups shell macaroni
2 eggs
2 1/2 cups evaporated milk
6 tablespoons salt (water and macaroni)
10 cups water (to cover the macaroni)
3 tablespoons pepper
3 cups cheese (you can use a combination of cheese blends)
1 cup pure butter or margarine
direction
Preheat oven to 325 degrees Fahrenheit.
Bring water and 2 tablespoons of salt to a boil. Once boiling, add macaroni and boil for 15-20 minutes until soft. Use fork to test. While the macaroni is boiling, add the eggs, milk, and remaining salt and pepper to the pan. Remove macaroni when soft. Rinse off with cold water. After draining, place the cooked macaroni into a large casserole pan.
Add butter to hot macaroni and mix. Add cheese and stir well. Top the macaroni with the remaining cheese and pour the milk over it. Cover with foil and bake in the oven for 20-25 minutes until done. Do not overheat.
meatloaf
Chester Tamayo also shared her famous meatloaf recipe with "GMA."
material
5 pounds of hamburger meat
1 cup white onion
1 cup red onion
1/2 cup green onions (about 6)
3/4 cup each orange, red, yellow, and green peppers
3/4 cup celery (2 stems)
French Onion Soup Mix 1 1/2 packages
Mrs Dash 6 tbsp
5 tbsp Greek seasoning
Creole seasoning 4 tbsp
Garlic herb 5 tbsp
5 tablespoons garlic rosemary
3 eggs
36 ounces ketchup
1 cup light brown sugar
direction
Preheat oven to 325 degrees.
Add burger meat to a large 11-by-14-inch casserole dish. Divide halfway through and add 3/4 of the prepared ingredients. Chop white onions, red onions, scallions, green peppers, and celery. Add his 3/4 of these ingredients to the meat and save the rest for the top.
In a separate bowl, combine soup mix, Mrs. Dash, Greek seasoning, Creole seasoning, garlic herbs, and rosemary. Add his 3/4 of the dry spice mix to the meat mixture, reserving the rest for the top. Add the eggs, 1/2 bottle of ketchup, and 1/2 cup of light brown sugar. Mix meat mixture well until all ingredients are evenly distributed. Form into a loaf of bread length.
In a small bowl, whisk together the remaining ketchup and brown sugar. Drizzle over meatloaf. Sprinkle with remaining vegetables and dry spice mix.
Bake at 325 F for 80-90 minutes. Take it out and cut it into bite-sized pieces.
mac and cheese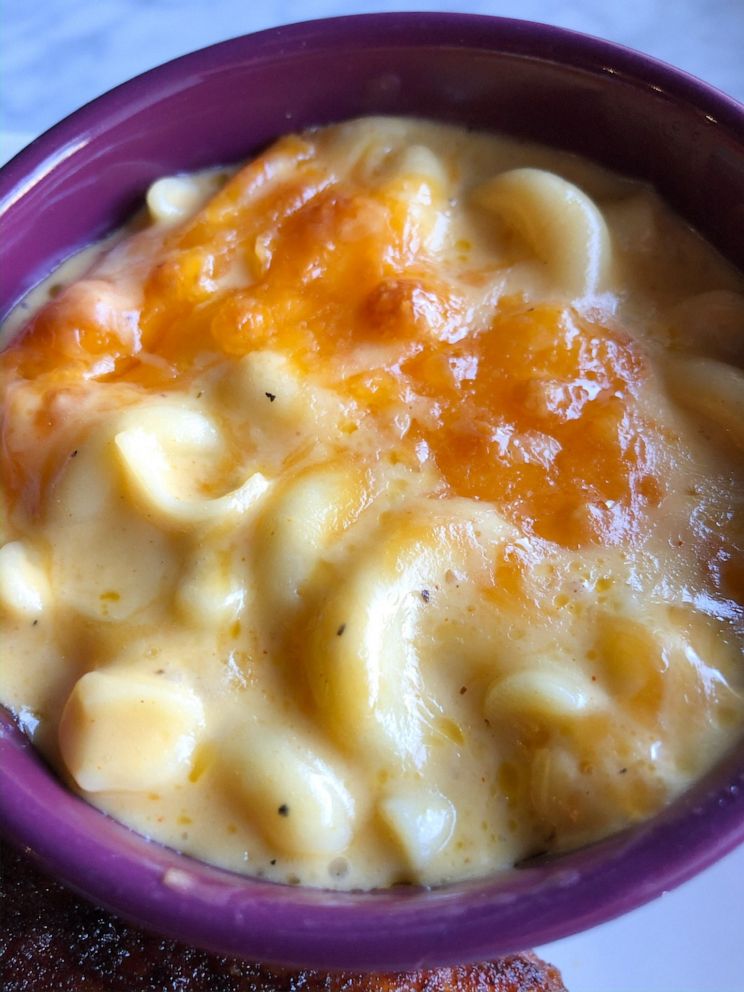 Invented by Chef Lavinia McCoy, classic dishes feature traditional elbow macaroni and a variety of cheeses.
material
1 tablespoon vegetable oil
1 tablespoon salt
1 pound elbow macaroni
8 tablespoons salted butter (1 stick)
1 cup 3 cheese blend (monterey jack, mozzarella, mild cheddar)
1 cup shredded spicy cheddar cheese
1/2 cup chopped sharp cheddar cheese – garnish
2 cups fresh cream
1 cup (8 oz) velvita, cut into small cubes
1/4 teaspoon seasoned salt (Lowrys)
direction
In a large saucepan or Dutch oven, combine 2 cups heavy cream, 1 cup shredded cheese (3 cheese blend), 1 cup diced velvita, and 1 cup shredded sharp cheddar and cover. and bake for 25 minutes.
Cook macaroni noodles according to box directions, adding 1 tablespoon vegetable oil and 1 tablespoon salt to water. Cook over medium heat for 10 minutes until al dente. Drain the macaroni, pour into a mixing bowl, stir in the butter stick, and add the cheese sauce removed from the oven.Add 1/4 teaspoon seasoning salt and mix. Taste and tweak as needed.
Pour macaroni mixture into baking dish, cover with freshly grated sharp cheddar cheese, and place in uncovered oven for 15-18 minutes or until brown and bubbly.
shrimp and grits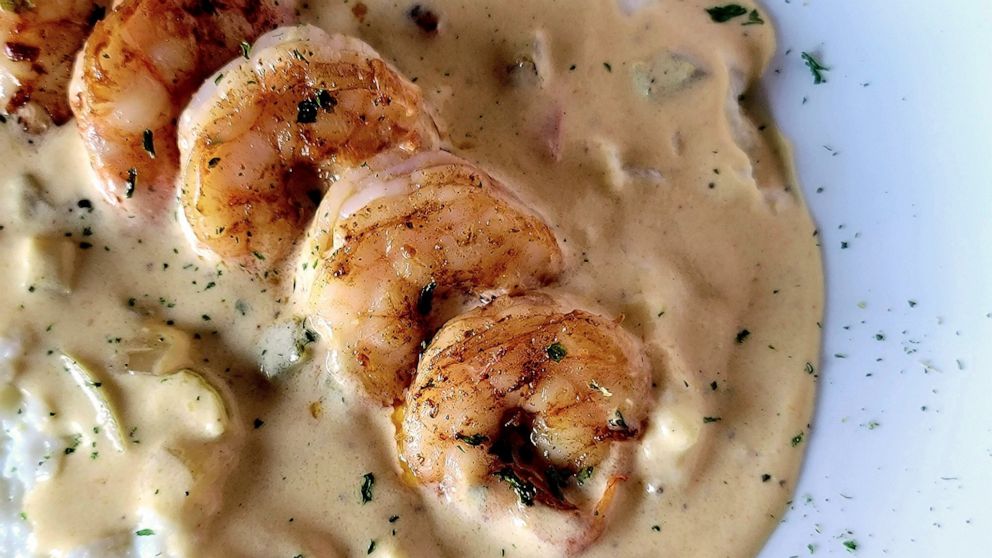 McCoy's second soul food recipe is also a Southern classic.
material
extra virgin olive oil
1/4 cup chopped celery
1/4 cup chopped red pepper
1/4 cup chopped green pepper
1/4 cup chopped onion
1 cup fish stock
1 cup chicken broth
dry virgin
Old Bay Seasoning
garlic powder
granulated onion powder
bay leaves
1 cup 3 cheese blend (monterey jack, mozzarella, mild cheddar)
1 cup shredded spicy cheddar cheese
1 quart + 1/4 cup heavy cream
8 tablespoons salted butter (1 stick)
1 cup (8 ounces) velvet, cut into small cubes
old-fashioned grits or quick grits
Raw shrimp, tail removed, deveined, deveined (size 16/20)
Chopped fresh parsley (garnish)
direction
Heat olive oil in a frying pan and add chopped celery, onion, red bell pepper and bell pepper. please sweat
Add chicken broth, seafood or fish stock, 3 tbsp Old Bay Seasoning, 3 tbsp granulated garlic, 3 tbsp granulated onion, 2 tbsp dried basil, and 2 bay leaves. When it boils, reduce the heat and simmer over low heat.
Add 1 quart heavy cream to the pan, bring to a slow boil, and add the cheese to melt.
In a separate pan, cook the grits according to package directions. Omit the salt and add 1/4 cup heavy cream when cooked. Whisk.
After simmering for about 20 minutes, add the seafood sauce to the fresh cream and mix well. Taste and add Old Bay if desired. Simmer over low heat until the plate is ready.
Add 3 tablespoons butter, 2 teaspoons Old Bay, and 2 teaspoons granulated sugar to the pan. Melt and mix, then add the peeled and deveined shrimp. Bake for 2 minutes on each side.
Add a spoonful of the grits to the bowl and cover with the cream sauce. Add shrimp and garnish with dried parsley.