With two Q3 earnings calls from major pay-TV operators, we can already see a significant increase in cord disconnects.
Comcast reported the loss of 540,000 home Xfinity TV subscribers and 21,000 business pay-TV customers on Thursday, increasing its 2020 cumulative loss of linear video subscribers to about 1.6 million.
Also Read: Comcast looks ahead to tough fourth quarter as economy, hurricanes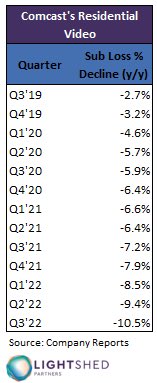 As the LightShed Partners Group chart (left) shows, Comcast lost just over 10.5% of the 18.549 million video customers it had on Sept. 30, 2021. exceeded 10%.
On a larger scale, this story fits in with a similar chart LightShed published for Verizon Fios TV late last week (bottom right), which saw a significant drop in 95,000 customers in Q3. is reported.
Also Read: Verizon and Snap's third-quarter earnings herald tough times for media biz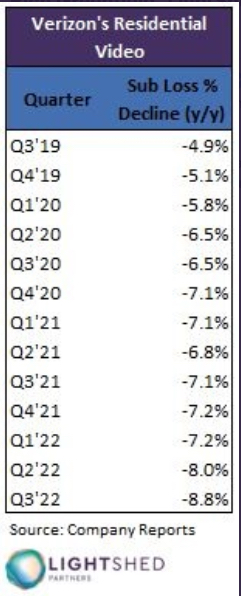 After being largely stable in pandemic-affected 2020 and 2021, year-over-year erosion into Verizon's video customer base began to accelerate sharply in the second quarter.
Has been updated: Charter Communications, the second largest pay-TV operator in the US, reported on Friday that it lost 211,000 Spectrum TV customers in the third quarter. This compares to the fact that he lost 121,000 customers in the third quarter of 2021. As of September 30th of last year, Charter's video was down 2.3% year-over-year. exactly the same.
Beyond that, DirecTV's customer metrics have been hidden from the public eye following the pay-TV company's spin-off from AT&T into a private-equity-run JV last year, so the next major milestone is late November. of Dish Network earnings.
The largest pay-TV operator, which covers 92% of the US market, lost 1.925 million subscribers in the second quarter combined, according to Leichtman Research Group. Expect them to definitely beat that awful benchmark in Q3.
Continued loss of distribution could be devastating for media companies looking ahead to an already deteriorating ad sales market. ■